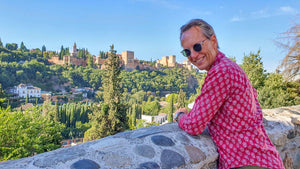 We were enormously proud when Richard E Grant chose to wear our shirts throughout his recent BBC travel series Write around the World.
The premise of the programme was that reading books in the places where they were written "in the landscape, seeing what [the authors] saw, experiencing the same climate, eating what they were eating," can make for a richer appreciation of the works. What a fabulous way to explore a variety of literature and enjoy the sunnier parts of Spain, Italy and France while doing so.
As you'd expect, Richard was a delightful, informative and stylish host… in fact, the perfect Indigo Man. Catch it on iPlayer if you missed it.